Soundline-PGP Super
soundproofing panel for thin walls and partitions
Soundline-PGP Super panels are used for improvement of soundproofing of partition walls made of tongue-and-groove gypsum slabs and foamed concrete no more than 100 mm thick. Panels without gap and framework are mounted on the partition from any side using multi-purpose self-tapping screws or rawplug anchors.
Application:
Used to arrange a sound-proofing coating of light one-layer partitions made of plasterboard or blown-out concrete and for demising walls and partitions.
ATTENTION! A thin partition must be covered with Soundline-PGP Super on one side only. Double-side covering is senseless: the effect of additional sound-proofing is manifested significantly after one-side covering and is not increased when a layer is added on the other side of the partition!
Principle of Operation:
Thin partitions made of tongue-and-groove plaster boards or blown-out concrete, 80-100mm thick, have a characteristic resonance reduction (no growth) in sound proofing within a range very important for sound proofing of 200-600 Hz. When mounted on one side of a partition, 23mm thick Soundline-PGP Super panels reduce the resonance sound passage within this frequency range. Therefore, the total sound-proofing of the Partition + Soundline-PGP Super is increased by 6-10 dB.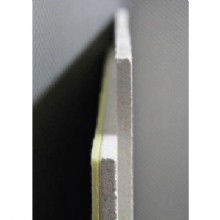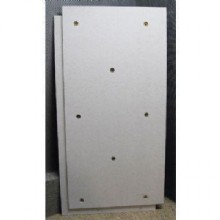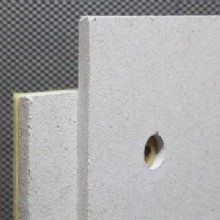 Technical specifications
Gypsum fiber tongue-and-groove element (20 mm thick)
Multi-layer glass-fiber mat Vibrostek-V (3 mm thick)
Compensating washers (24 mm dia)
Format: 1200 mm x 600 mm x 23 mm
Surface density: 24.3 kg / m²
Weight of one plate: 17.5 kg
Number of attachment points: 8
Diameter of the dowel screws: 8mm